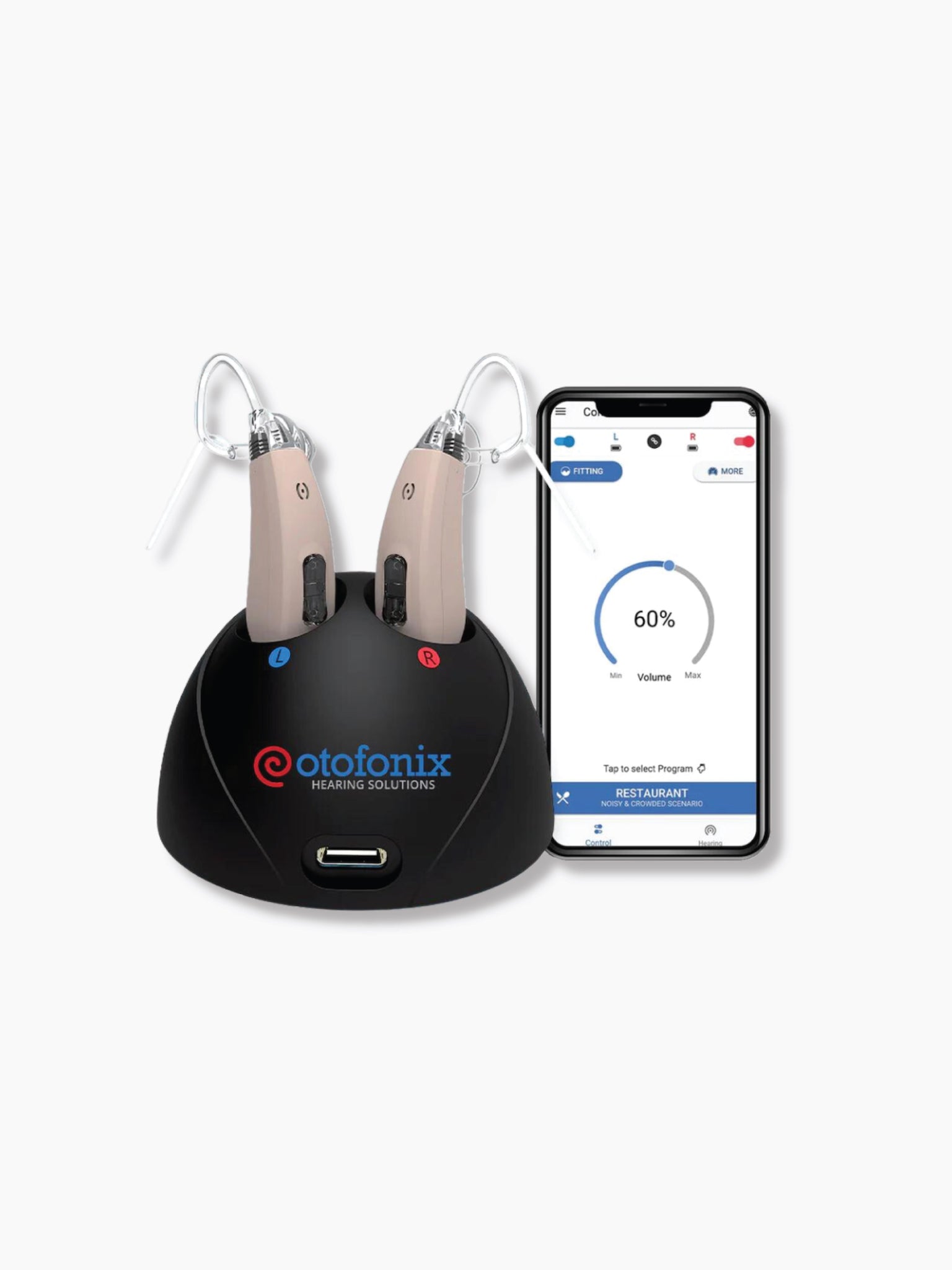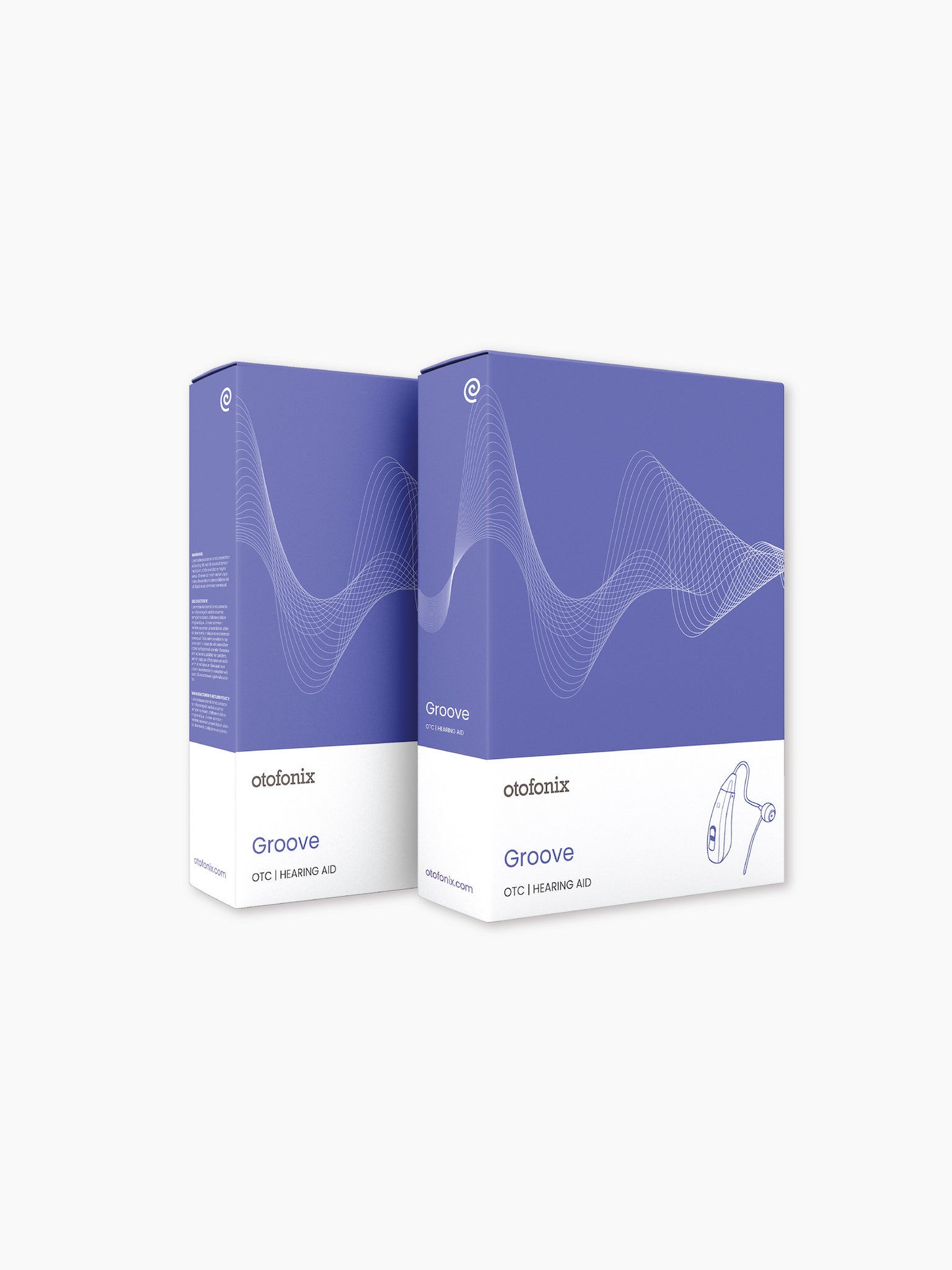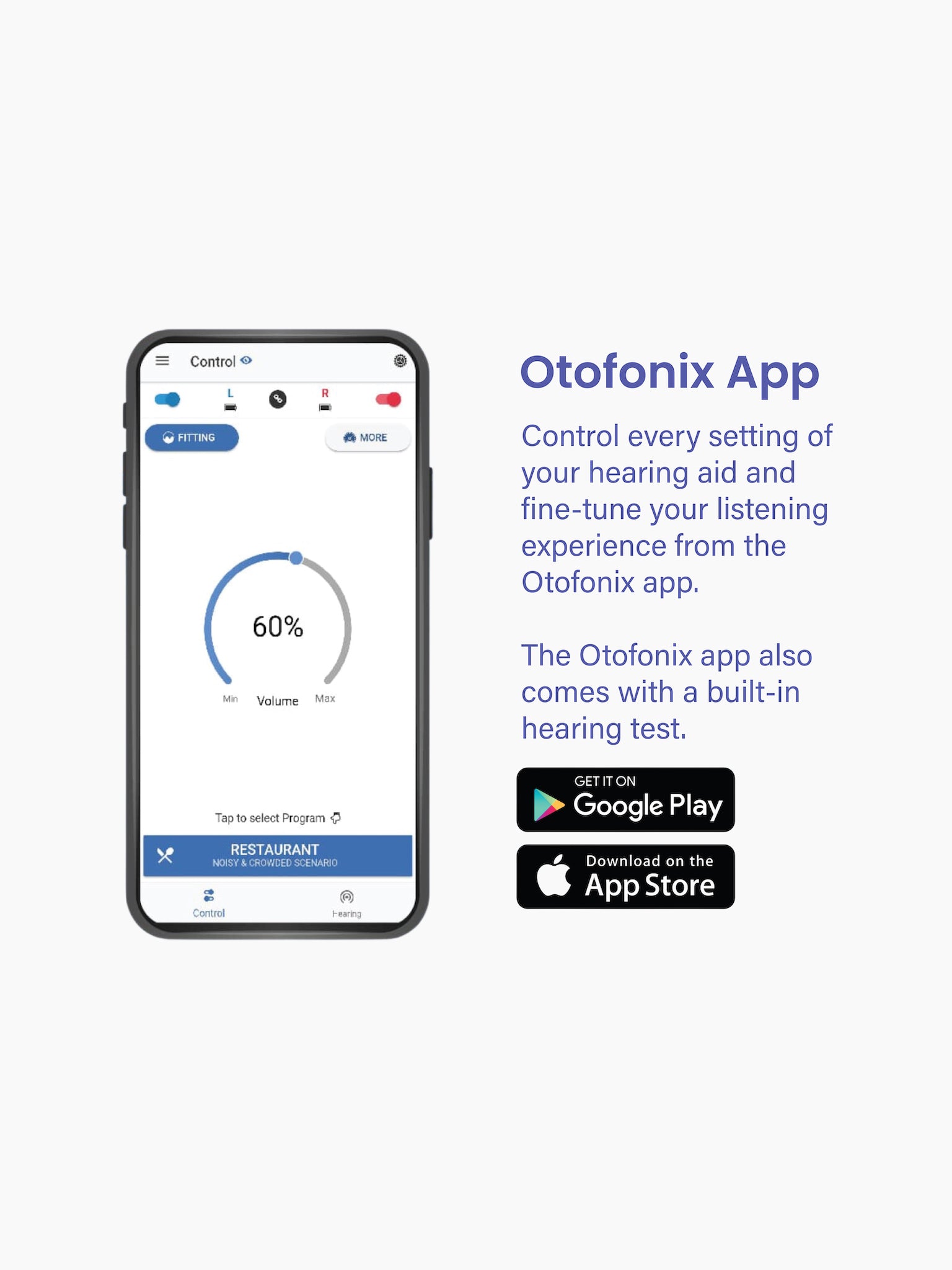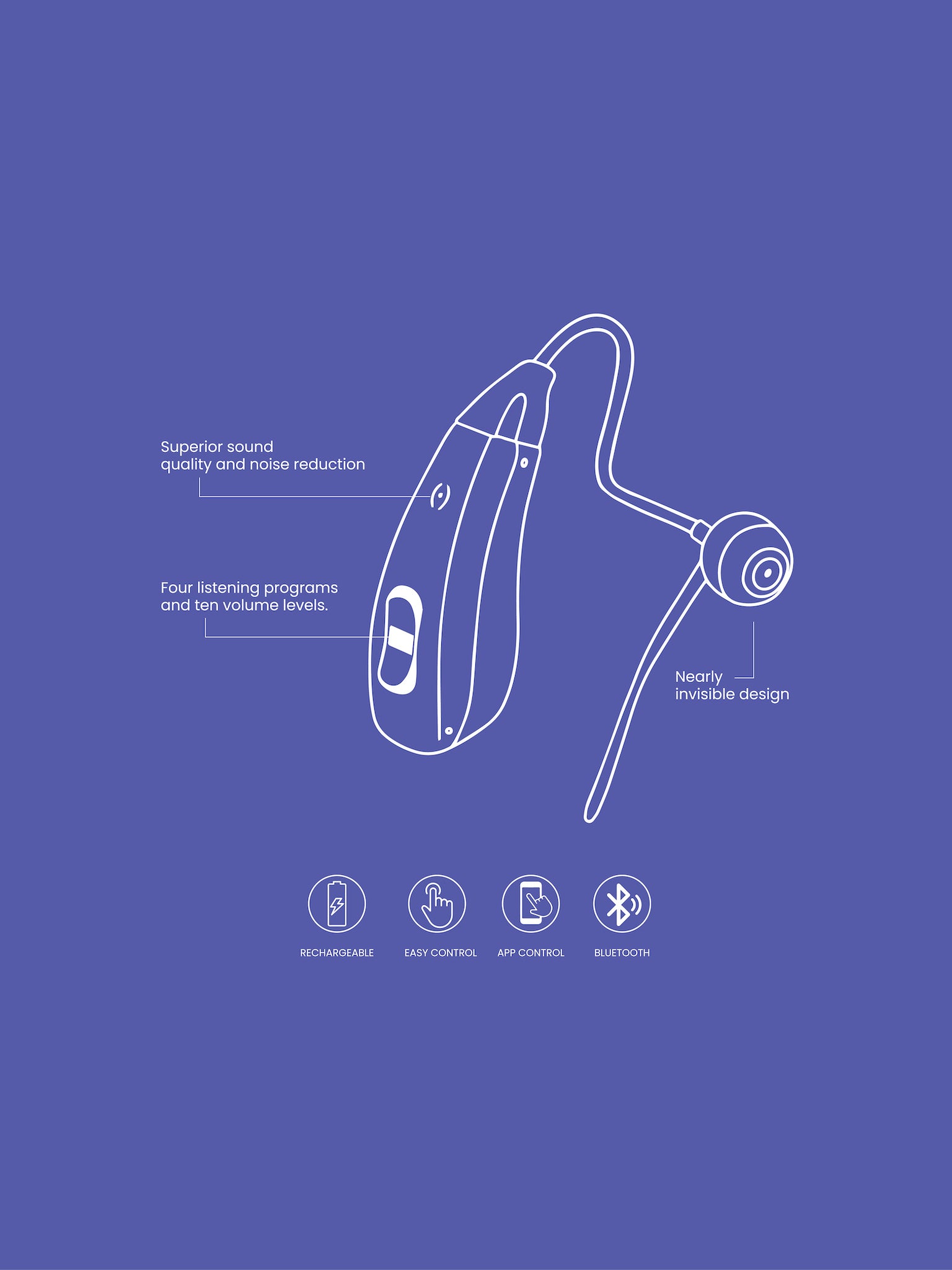 Rechargeable, Bluetooth Hearing Aids
Sale price
$795.00
Regular price
$1,590.00
Experience the future of hearing technology with Groove - the hearing aid that keeps you connected and in control. With Bluetooth, rechargeable battery, discreet design, and advanced noise cancellation, Groove is perfect for improving your hearing. Stay connected all day with all-day battery life and lightweight design.

Estimated Delivery:Dec 08 - Dec 12

Free Shipping & Returns: On all orders over $75
❝
What a big difference. I just received my device and all I can say is wow. I'm hearing things that I had forgotten have sound.
Bluetooth Connectivity.
The next-gen hearing aid that puts you in control.
With Bluetooth connectivity, you can easily connect your hearing aid to your smartphone with the Otofonix app and take charge of your listening experience. The Otofonix app allows you to adjust volume, program settings, and even create custom sound profiles for different environments - all from the convenience of your phone. No more fiddling with tiny buttons or switches - with Groove, you can simply tap a button on your phone to make adjustments.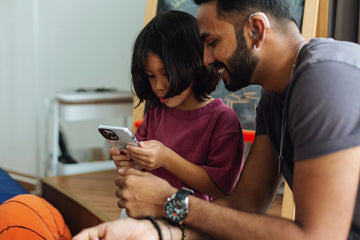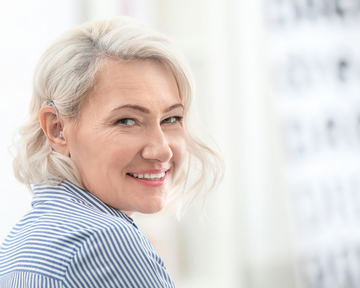 Rechargeable.
Say 'Good Bye' to changing batteries.
Gone are the days of constantly replacing hearing aid batteries – the Helix Hearing Aids can be easily recharged in just 2 hours and last up to 18 hours. This means that you can spend less time worrying about battery life and more time enjoying the sounds around you.
Personalized Hearing
Tailored to your specific needs.
With four listening programs and 10 volume levels to choose from, the Helix hearing aids provide a range of options to suit your unique hearing needs. From speech enhancement to treble mode, the Helix hearing aids can be adjusted to meet your needs.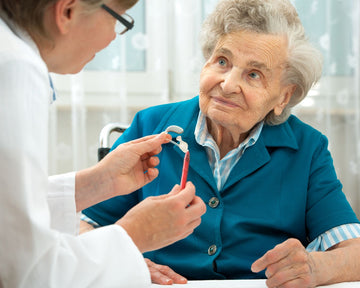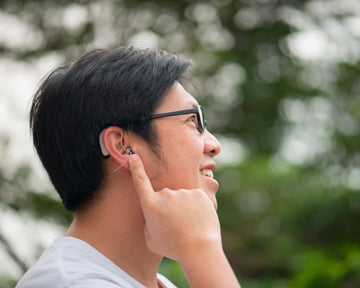 Unbeatable price.
Quality that fits your budget.
Otofonix hearing aids are the perfect balance of quality and affordability. You get all the features and performance that you'd expect from a top-of-the-line device, without having to pay top dollar. You'll be able to save up to 90% compared to other hearing aids on the market, making them accessible to everyone!
What's in the box
Hearing Aid
Traveling Case
Charger
Ear Domes
Sound Tubes
Cleaning Kit
Ear Hook Kit
Groove Technical Specifications
| | |
| --- | --- |
| Model | Groove |
| Dimensions | 1.2" x 0.31" x 0.48" |
| Battery Life | 15-18 hours* |
| Sound Environment Settings | 4 Settings |
| Digital Sound Processor | Yes |
| Directional Microphone | Yes |
| Volume Control | Rocker Switch |
| Battery Type | Rechargeable |
Warranty & Returns
Otofonix Hearing Aids are covered against defects in materials and workmanship for one year from the date you receive your order. If our examination determines that the unit failed to work due to parts, materials, or workmanship, we will repair or replace it for free. However, this warranty does not cover malfunctions due to unusual wear and tear or mistreatment of your device, such as physical shock, damage from moisture or sweat, excessive wax build-up, or tampering with the device, all of which void the warranty.
I am very disappointed that the bluetooth does not work and your support personal could not fix it. I am not getting what I paid for
Get Down and Get Groove
I have had these hearing aids in use for at least part of every day for 10 days. Briefly, they're great. They DO (as the manual says) take some getting used to - but this is my first experience with hearing aids so I'm getting used to hearing aids AND (in particular) the Groove. So - I have almost picked up the phone a couple of times (very very good initial call when purchasing) - but for minor things that have less to do with my hearing than I'd like to admit - the iPhone program flashes a message repeatedly each time I go to the controls and the Bluetooth 'drops out' more than it should - but the hearing aids work well. I spent most of today in a busy Apple Store - a very busy and noisy environment - and I could hear clearly and function well. Just now we're in front of the TV news and have adjusted volume and program and all is well. (I will call and talk with you folks soon.)
Robert Conley
So far they seem to be doing as well as the 7000 dollar pair I tried!
Need more time before review.